How a successful IPO correlates to ERP system?
cloudsiteadmin
Going public is a big step for any company. Preparing for an IPO (Initial Public Offering) is a challenging task that requires exceptional financial management and governance software. Through the IPO process, potential investors, auditors and underwriters evaluate a candidate's reporting capabilities, IT systems, and compliance, as well as its overall business prospects to determine its outlook.
Based on that, we may say that the IPO path starts with the right business management software. Many startups and growing companies begin with accounting software, ending up with a patchwork of separate systems, manual processes, and locally kept files. This complicates operations and costs the organization time and money. Businesses looking to make an IPO need to demonstrate efficient processes and cost-effective operations. Every dollar counts when making a company's financial position public.
Cloud ERP business management software brings together all core business functions, including financials, inventory, sales and marketing, CRM, customer support, and more. The real-time visibility gained with a cloud solution keeps company owners and executives informed – wherever they are. Agile business decisions can be made, the moment they're required, using accurate, up-to-the-minute reporting.
How COVID-19 Pandemic influenced IPOs?
According to Renaissance Capital, as of July 14, 2020, there had been 71 US IPOs in 2020, a drop-off of 11.3% from 2019. Total proceeds raised have totaled $23.3 billion, down 21.6% from last year, and the total of 107 IPO filings is 11.6% less than a year earlier. European IPO markets raised €5.4bn in the first half of 2020 compared to €12.2bn in the same timeframe in 2019. These numbers show a remarkable slowdown. However, there are also examples of successful IPOs.
Many companies postponed their IPOs plans in light of the economic slowdown of COVID-19 pandemic. These companies hope for an economic recovery in 2021 while competition for the investors' dollars is going to be hard. The key to standing out lies in preparation and planning. These two things are critical to attracting investors and to accomplish a successful IPO. An ERP system is crucial to achieving that—especially one that unifies all critical business functions and is deployed in the cloud, like NetSuite ERP. According to data provided by Oracle, 64% of startups with successful tech IPOs have been using NetSuite since 2011.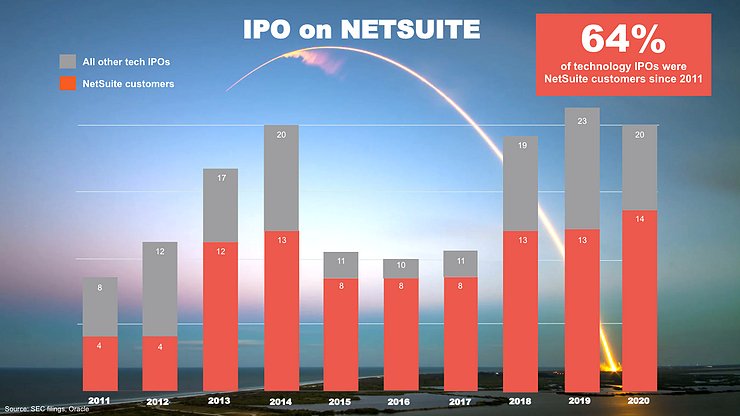 How to prepare for a successful IPO?
There are several steps a company should take with NetSuite ERP to raise odds for a successful IPO. The importance of having a strong and comprehensive financial foundation in advance of an IPO is clear. Key decision makers should be aware that regulatory requirements will prohibit them from changing any financial systems at any time during the IPO process, and for one year thereafter. Companies looking to go public must be prepared to provide 3 years of audited financial data, solid debt-to equity ratios, sufficient market capitalization and expected revenue and earnings streams. IPO candidates also must be capable of dealing with modern accounting challenges, such as asset valuation impairment, consolidated subsidiary financial statements issues and revenue recognition. NetSuite ERP provides the tools and capabilities to navigate that complexity.
Producing complicated Financial Reports
For IPO the company must be able to produce rough financial reporting. NetSuite ERP provides the kind of robust reporting and analytics organizations need to establish these practices with automated reports around key performance indicators (KPIs), role-based dashboards and the ability to drill down by department, subsidiary or location with an intuitive interface that allows even inexperienced users to perform complex analytics. The financial reports are flexible as NetSuite's Financial Report Builder enables users to customize reports for any requirement. Each report contains real-time data. Increased efficiencies and accuracy will alleviate the stress that comes with preparing for an IPO, and with issuing the quarterly reports once the company is public.
Governance framework establishment
Companies considering IPO should establish a governance framework that keeps board and management accountable for their responsibilities to avoid major holdings. ERP suites like NetSuite with Governance, Risk and Compliance (GRC) capabilities built in give businesses confidence in their reporting and auditing from startup through IPO and beyond without having to change systems.
Clear picture of the business for better Investor Relations
A strong Investor Relations (IR) team, backed by metrics that provide a clear picture of the business, needs an infrastructure that can report on those metrics. This requires building a visible and transparent reporting process long before pursuing an IPO. By providing quick access to financial metrics and reports, NetSuite provides the capabilities companies need to build an IR organization that's informed, insightful and prepared to face public-market analysis. Investors want to see that your whole company functions like a well-oiled machine.

Risk Management capabilities
A public company should have risk management capabilities to respond when an audit committee or the board of directors asks about management expenses, approving major costs, cash access or forecasting. NetSuite provides access to real-time KPIs and automated rule-based alerts needed to identify risks before they become real-life problems.
How can NetSuite support the day to day of the IPO team?
NetSuite provides nearly 100 pre-built reports and pre-configured roles with dashboards and business intelligence metrics. Each member of the internal IPO team can have a customized role, and view of KPIs via real-time dashboards. They can also generate reports with metrics specific to their tasks and responsibilities associated with the IPO process. Specifically regarding ASC 606, NetSuite is a subscription-based software company, so it has first-hand experience with challenges adjusting to this updated standard. NetSuite's modular design allows businesses to quickly add and remove modules on an as-needed basis so it can grow or consolidate as your business does.
Supported by an effective ERP system implementation, the IPO process is expected to go smoothly and its odds to be successful are highly increased.